Best Price in Town Guarantee
All Conventional Water Heaters and Tankless Water Heaters, New or Replacement, Get Our Best Price In Town Guarantee.
At Poole's Plumbing we continue to work hard ensuring that we create the best value for clients. However, these days it becomes harder and harder to keep up with the next "best deal" on the Internet. Therefore we have simply created a "Best Price in Town" guarantee for ALL new and replacement water heaters.
Poole's Plumbing will match ANY competitor's price as long as it meets the following criteria: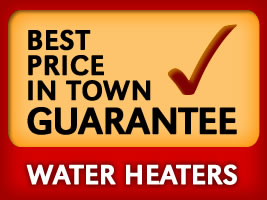 Must provide written estimate from competitor
Competitor must be licensed & insured
Scope of work must be done to NC plumbing code
Must include same or equivalent model water heater
Must have permit fee included if applicable
---
---
---