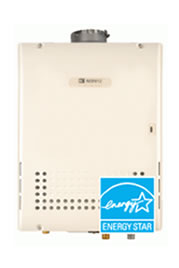 Noritz offers a full-line of compact residential tankless water heaters for any application.
NR111-SV, NR111-OD, NR111-DV
The NR111 series is best suited for higher capacities, such as multiple-bathroom households with higher hot water demands. Large residential applications can range from washers, sinks and showers to toilets and Jacuzzi-sized bath tubs, many that run at the same time throughout a day. With features like coated copper heat exchangers to prevent deterioration and internal piping 25% thicker than base models to extend product life, these residential tankless water heaters are manufactured to last. In addition, NR111 series is Quick-Connect capable and has a Turbo-Flow feature for higher hot water flow, ensuring an endless supply of hot water for you and your family. To best fit your hot water application needs, three venting options are available: SV (indoor/outdoor), OD (outdoor only) and DV (sealed combustion, indoor only).
[SlideDeck2 id=2867 ress=1 iframe=1]
NEW NR98-DVC!!! All stainless concentric venting (5″ outer/3″ inner), zero clearance, single wall penetration, adjustable vent pieces, adjustable wall-mount brackets, built-in remote – exclusive 12 yr warranty on heat exchanger/5 yrs on parts.
NR98-SV, NR98-OD, NR98-DV, NR98-DVC
NR71-SV, NR71-OD, NR66-SV, NR66-OD
The NR66 series is perfect for apartments, condominiums, and townhomes, that usually contain 1-3 showers. For heavier residential demand, the NR98 series can comfortably accommodate homes with 3 showers and is Quick-Connect compatible-which can double the hot water capacity if needed. The NR98 series contains commercial grade heat exchangers with 25% thicker copper piping than other brands and all models are equipped with a Turbo-Flow feature which enables the units to provide a boost of higher hot water flow.

HYRONIC BOILERSASME Certified
Noritz is the first tankless water heater manufacturer to introduce tankless hydronic boilers to consumers. The NH series (NH199-DV and NH150-DV) hydronic boilers share the same features as our residential and commercial tankless water heaters-energy efficient, environmentally friendly and engineered to provide endless hot water for all applications. Dramatically smaller in size, Noritz tankless hydronic boilers weigh only 66 pounds versus a conventional boiler's weight of over 300 pounds. They also offer 9 temperature settings for hydronic heating in your home.
Hydronic Heating Applications
The NH series provides quiet and constant room temperature comfort in the home for various heating choices, such as panel radiators, baseboard flooring and radiant flooring. The most important benefit of hydronic heating is allergens or dust will not be re-circulated in the home, which happens when using forced air furnaces. Noritz tankless hydronic boilers warm objects in a room, providing a higher level of warmth and comfort.
Norbitz tankless water heater features include:
Advanced technology: