Rinnai Tankless Water Heaters Raleigh
Rinnai Tankless Water Heaters, Go Green with a professionally installed Tankless System. Poole's Plumbing is your Raleigh, NC Rinnai, Authorized Service Provider.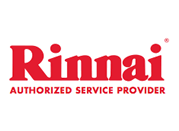 You'll enjoy up to 40% energy savings, endless hot water, and significant space savings plus a typical life span of 20 years or more in residential applications. And this "green" technology produces less CO2 and NOX than conventional gas or electric tank water heaters. Rinnai tankless water heaters use natural gas or propane gas to heat water only when needed. When water flow is detected, the Rinnai begins heating water as it passes through its copper heat exchanger. The design of the unit allows it to capture up to 84% of the heat energy, making it highly efficient and cost effective. When the demand for water ceases, the tankless unit shuts down and uses no energy a revolutionary advantage over inefficient tank-style heaters. More efficient when it's on, and off when it's off, the Rinnai tankless water heater is the ultimate choice in today's world of high energy costs and environmental preservation.
Only Rinnai offers the quality and reliability that is built on a 45 year history of innovation and improvements. Rinnai provides superior customer support before and after the sale with an industry-leading 12-year limited warranty.
History and Experience
Rinnai has over 30 million tankless water heater installations worldwide. We have been efficiently heating water since 1964, and selling our heating appliances in the U.S. in 1974. Rinnai is the world's largest gas appliance manufacturer.
The Rinnai System
The Rinnai system is a comprehensive solution that takes advantage of the tankless water heater's efficiency and flexibility. Use the efficiencies of your Rinnai tankless water heater to heat your home. Utilize controllers to set precise water temperatures, for multiple locations in your home. This ensures comfort and prevents scalding accidents. Further, our unique concentric venting system, for units installed inside the home, only requires one penetration for both intake and exhaust. This proprietary vent pipe takes the guess work out of using the proper materials, maximizing safety and space usage.
Awarded "Best Tankless Water Heater"
Rinnai is the 2010 Builders' Brand Leader as chosen by home builders in Builder Magazine. The Alliance to Save Energy awarded Rinnai their prestigious Super Nova Star Award for energy efficiency and Bestcovery.com chose Rinnai as The Best Tankless Whole-House Water Heater.
5-Year Labor Warranty
With a Rinnai tankless water heater, you'll have peace of mind with an industry-leading 12-year limited warranty on the heat exchanger. And, effective April 1, 2011, Rinnai now offers extended limited warranty labor coverage of up to 5 years from the date of purchase on select models of Rinnai tankless water heaters when used in a residential hot water application.
Total Product Support
Rinnai provides superior customer support before and after the sale. We are available to answer all of your questions. Additionally, we are available toll-free to our dealers 24-7.
---
---
---