The most trusted name in Raleigh professional plumbers, Poole's Plumbing, offers and installs the most innovative and highest quality products from your favorite brands, including the Moen Kitchen Faucets "Reflex" models, which give you a combination of convenience and style like no other.
Advertised on the official Moen website as a product "Designed to Put Itself Away," the "Reflex" model Moen Kitchen Faucets have a variety of features and are available in either "pull-down" or "pullout" faucets.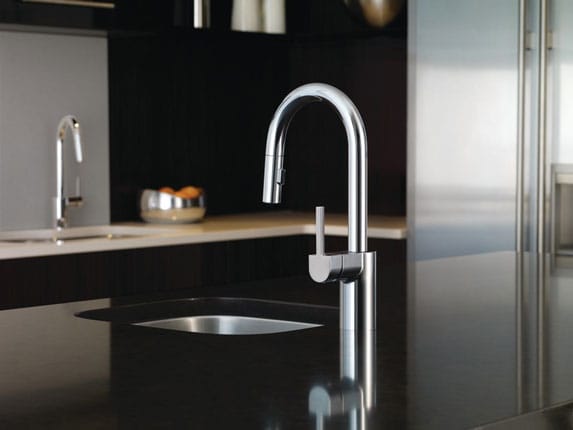 The "Reflex" Moen Kitchen Faucets feature self retracting action, as the hose once released after usage smoothly returns back and docks itself securely in its original position. The smooth and secure docking on these types of Moen Kitchen Faucets retracts from any angle or any distance, which you may use.
Through a thorough and extensive testing process actually done in the homes of real consumers, the designers and engineers at Moen arrived at the most easy to maneuver faucet that you could ask for. Additionally, the Reflex Moen Kitchen Faucets extend unlike any other faucets, making every day tasks much more simple for you, while never compromising the sleek design of either a pull down or pullout faucet that adds to the look of your kitchen.
The only real decision in selecting one of the Reflex Moen Kitchen Faucets depends on which style is right for you: Pulldown or Pullout? The advantages of each to help you in deciding which you'd like the Raleigh NC plumbing experts at Poole's Plumbing to install are as follows:
Pulldown Faucets
Extra work space from the high arc spout gives you the most clearance for bulky pots
Available in a variety of style choices, including traditional, transitional and modern
Pullout Faucets
Mid arc height clearance for filling large pots while still conserving space
Self-retracting and secure docking
A larger, ergonomic handle and aerated stream/spray pushbuttons at your finger tips
For a full listing and photos of the different choices in Moen Kitchen Faucets, visit their website at moen.com.
https://www.poolesplumbing.com/wp-content/uploads/Innovation_Detail_reflex_03_large.jpg
430
573
raleigh plumbers
https://www.poolesplumbing.com/assets/Pooles-logos_03.png
raleigh plumbers
2016-06-07 12:21:21
2019-01-24 13:48:42
Moen Kitchen Faucets Provide Convenience and Style