Conventional Water Heaters
Conventional Water Heaters
 makes the hot water that is necessary to carry out many everyday household tasks. From cooking and cleaning to washing clothes and bathing, we all know how inconvenient it is when there is no hot water. Let Poole's Plumbing provide all of your plumbing needs so you can get back to the more important things in life.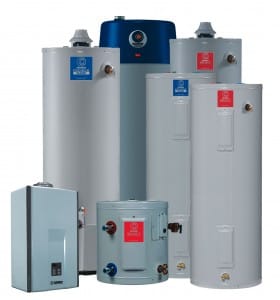 Storage Tank Water Heater
Most homes come equipped with a standard storage tank water heater. This type of water heater system utilizes a tank to store water that is kept hot and ready to use. Hot water is released from the top of the tank once the hot water tap is turned on. As the hot water is used, cold water (ready to be heated) enters the bottom of the tank to ensure that the tank is always full.
The two most common types of energy sources used for storage tank water heaters are natural gas and electricity. The advantages of the storage tank water heater include:
• Less upfront costs
• If your home loses power, the hot water stored in the tank is still available for use.
Before purchasing a new water heater, consider the following:
Family size / gallon capacity: The number of bathrooms and family size
Fuel type (Electricity, Fuel Oil, Natural Gas, Propane)  Fuel Type will affect costs, efficiency and size.
Energy Efficiency:  To maximize energy and save money, you'll need to consider the efficiency of the water heater.
Costs:  It is important to consider your annual costs to compare the different storage tank water heaters.
Life Expectancy / Preventative Maintenance:
The average life expectancy of a storage tank water heater is 10-12 years. We recommend that you have an annual inspection and preventative maintenance service to extend the life of your water heater.
We can help you extend the life of your water heater with our Water Heater Maintenance & Diagnostic service. This service includes:
Drain & Flush Water Heater
Inspect Insulation
Inspect Connections and Exterior of Tank
Check Temperature & Pressure Relief Valve
Check Thermostats & Elements (Electric WH)
Check Gas Pressure (Gas WH Only)
Check Thermostat (Gas WH Only)
---
We provide this service for a low price of $190.00.
Call us today to schedule an appointment.
*Upon inspection of your water heater, we can determine if it should be replaced instead of completing the maintenance service. If we install a replacement water heater, we will cancel the maintenance fee and charge only for the replacement of the water heater.
We love to help you make informed decisions. We'll work with you to determine the best fit for your home. Please feel free to call us to discuss your options and get professional advice. If you are in need of a new storage tank water heater we can provide you with a free estimate over the phone to minimize costs and save time.
---
---
---
---