Raleigh Plumbing Company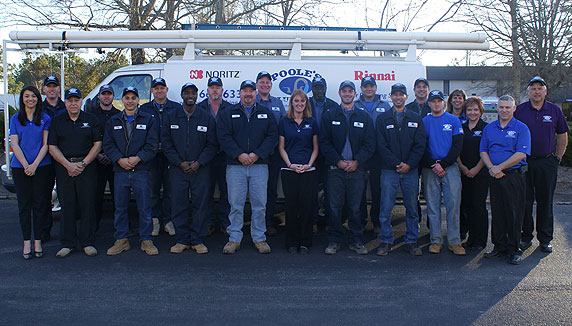 Poole's Plumbing, Inc. is a fully licensed and insured residential and commercial Raleigh plumbing contracting company that was created in 1999 by Robert K. Poole. He started with two men, a truck, and a dream, doing new construction and renovation work in the Raleigh area. Robert had aspirations that one day his company would be one of the top plumbing contractors in the area.
Due to a key partnership with Drees Homes, Poole's Plumbing, Inc was able to grow into a full service plumbing company specializing in new construction, repair, & renovation. By 2007, Poole's Plumbing was able to employ 60+ employees and plumbed approximately 1,300 new homes per year. In 2008 we experienced a down-turn in the housing market. Poole's Plumbing then expanded its' plumbing service to the residential and commercial service industry. Currently, Poole's Plumbing, Inc. maintains a client portfolio that includes some of the largest national home building companies as well as some of the most well respected custom home builders in the triangle area.
The moral / ethical position of Poole's Plumbing, Inc. is to create an environment of Honesty, Integrity, and to maintain a high level of service without compromising quality or craftsmanship. While using the very best materials available in today's marketplace, Poole's Plumbing will never cut corners to save money. Our desired public image is "plumbing done right the first time" at the best possible cost. We look at every job as if we were doing that job in our own home. We want to be your plumber for life.
Poole's Plumbing is a Raleigh Area Plumber & Certified Tankless Water Heater Installer
We install Brand Name Tankless water heaters that can save up to 40% on your energy bill, while supplying you with endless hot water. If you have been thinking of replacing your current water heater, contact one of our Certified Raleigh Plumbers for a free estimate. We offer the best plumbing prices in town with our best price in town guarantee!
Poole's Plumbing is a Raleigh Area Plumber & Certified Tankless Water Heater Installer
Featured Raleigh Plumbing Services Testimonials
"One of only a few companies willing to do a truly free estimate. Duane came out and gave my husband and I two estimates. The options were dependent on the type of pipe in our yard (ie. If they did option A which was cheaper, but needed to do Option B, then they would not charge us for both options- only Option B). Duane was very professional and was able to answer all of our questions on the spot. On the day of our repair, the workers found a small pinhole leak in our non-copper line. They were able to quickly repair it and they were significantly UNDER their estimate (estimate was ~$550, actual $162). Would definitely recommend!"
Julia W.
"The service provided by the Poole's team was beyond our expectations. Our organization was met with a consumer service challenge which required collaboration with an organization – long distance. Your organization stepped up, delivered on it's commitments, and provided great service to our end customer. By doing this our consumer is very pleased with our ability to deliver on our commitments as well. Our team will keep your organization in our book for any and all future business in your area, and wish all experiences were as thorough. "
Sherry B.
---
---
---