Hydro-Jett Clear & Clean Services
Uses high pressure jets of water (3500 PSI) to remove build-up and debris in water / sewer lines.
Spinning streams blast build-up at different angles leaving the inside surface of your pipes clean!
So powerful it will cut through a 2×4 piece of wood in about 30 seconds! 
Penetrates built-up grease, soap scum, mineral, sand, sediment, scale, leafs, hair, and even roots!
Safe for use on all type of drains and drain lines!
Removes debris without tearing up your yard or pavement … no more sewer cables or digging up clogged sewer pipes!
Includes 90 day warranty!
Includes Camera on all lines at no additional charge!

Highly recommended for:
Residential customers using garbage disposals
Apartment complexes where anything is put down the sink
Restaurants using oils and grease
---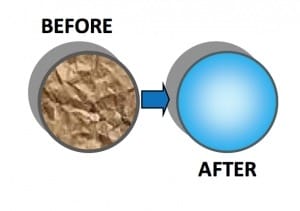 ---
[SlideDeck2 id=4522 ress=1 iframe=1]