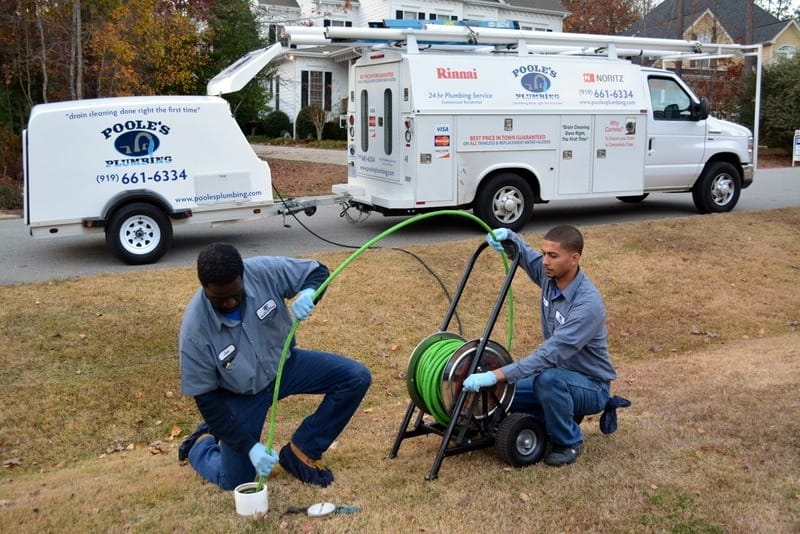 A clogged drain can be a costly and disastrous problem if not addressed properly, and utilizing the most innovative techniques and equipment in the industry, the foremost authority on Hydro-Jett Services in the Raleigh NC and surrounding area, Poole's Plumbing is your "go to" for opening up those pesky clogs.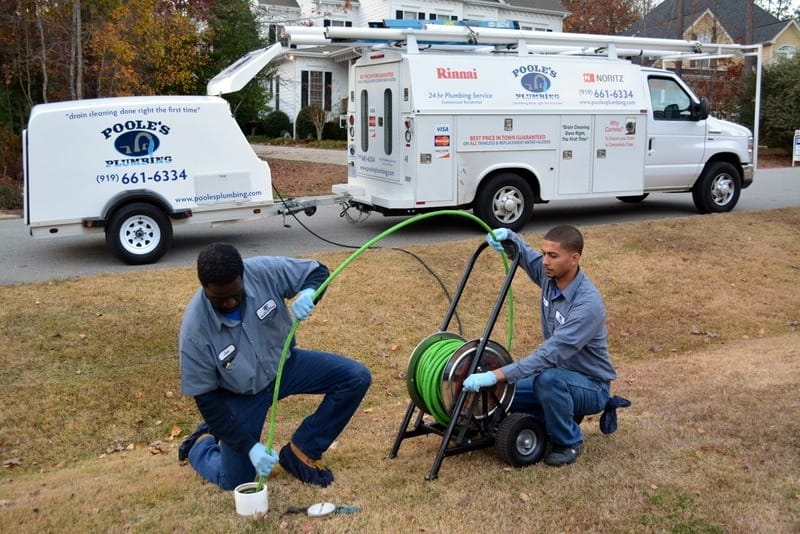 Although many are still not aware of the differences in Hydro-Jett Services as opposed to the traditional use of a cable feeding device to clear a drain, the professionals at Poole's Plumbing, as in all fields, are experts. Utilizing high pressured jets of water that send a spinning stream through your clogged lines at different angles, Hydro-Jett Services leave your pipes clean whether the clog is formed by more common items like grease build up or soap scum, or even the always difficult tree roots. The process is safe on any and all types of drains and as an added bonus to getting your drains cleared, Hydro-Jett Services allows for your yard or pavement to not need to be dug up and made a mess of.

There are many benefits to choosing the Hydro-Jett Services when having your drains cleared but the following points make clear why this has become the most efficient and effective method for both residential and commercial drain clearing needs.
The overall power of the 3,500 PSI high pressure water jets used by Poole's Plumbing through their Hydro-Jett Services COMPLETELY clears the line of all debris and build up. While snaking with a cable can remove a blockage or clog, it still leaves residue that will eventually lead to another clog that can be avoided through Hydro-jetting.
Even though initially the cost for Hydro-Jett services is a bit higher than the more traditional methods, in the long run you lessen the need for future clogs and service calls by completely clearing the pipes affected. Also, hourly labor costs for the services can be saved upon due to the much quicker clearing from Hydo-jetting
While some may question whether the amount of water used in Hydro-Jett Services being wasteful, in actuality compared to either chemical or other procedure, this process is far more environmentally friendly that other drain cleaning methods. Unlike many other of these methods, hydro-jetting is even safe for residences or businesses located close to lakes, rivers, ponds, and other water.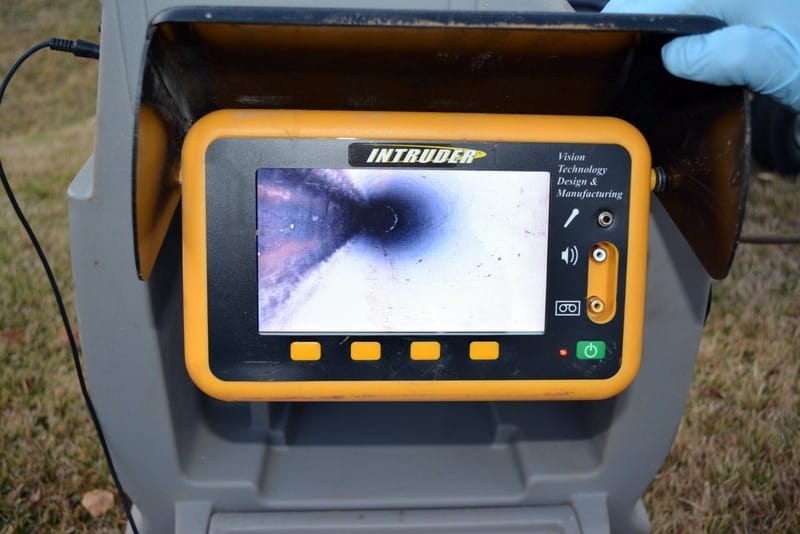 In addition to these reason to utilize the Raleigh NC professionals at Poole's Plumbing's Hydro-Jett Services, they also offer a camera on all of their hydro-jetting lines so that you can personally view how clear the pipes and drains have gotten. For more information or to have Poole's come out and take a look at your clogged drains, visit the Hydro Jett Clear and Clean Services page on their website at poolesplumbing.com.
https://www.poolesplumbing.com/wp-content/uploads/Hydro-Jett-Services-1-Pooles-Plumbing.jpg
534
800
raleigh plumbers
https://www.poolesplumbing.com/assets/Pooles-logos_01_small.png
raleigh plumbers
2016-06-15 07:23:45
2020-01-02 14:43:31
Why to Choose Hydro-Jett Services to Clear Your Drain