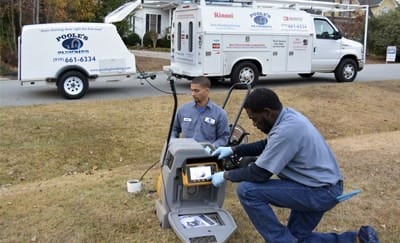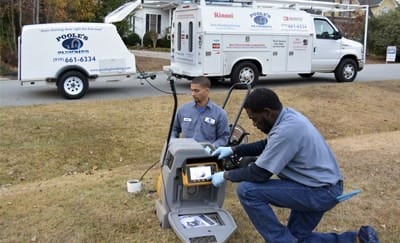 Poole's Plumbing has prided itself on its friendly, full-service drain cleaning and sewer clearing offerings for more than a decade, and we're happy to announce the availability of our new Hydro-Jett Clear & Clean Service, a more thorough and complete fix for both residential garbage disposals and commercial drain stoppages.
Unlike conventional cable or "rooter" machines which only target the immediate stoppage in your drain, our Hydro-Jett system utilizes high pressure water jets at 3500 PSI to thoroughly clean the walls of the pipe, removing far more of the debris in your water and sewer lines and preventing leftover build-up from creating another stoppage by simply eliminating it altogether. This system doesn't "poke" a hole in the stoppage like previous systems — it literally blasts away the problem.
How does the Hydro-Jett Clean & Clear Service offer such a complete, efficient solution? The jetting system's spinning streams attack sediment, scale, soap scum, leaves, grease, hair and even roots at a variety of angles, and are so powerful they can cut through a 2×4 piece of wood in approximately 30 seconds! This power is used efficiently and responsibly, because unlike cable machines, your pavement and landscaping don't need to be dug up or disturbed during the process. No more sewer cables and no more messy removal of clogged sewer pipes.
The Hydro-Jett system is so advanced that Poole's recommends its use for everything from apartment complex clean-up to tearing through grease and oil in restaurant drains, and because of the manner in which the high-powered jets attack the gunk and build-up around the walls of the pipes, we're offering a 90-day warranty with each cleaning. Oh, and as always, you'll never pay extra for our camera. Interested in learning more about our innovative Hydro-Jett Clear & Clean Service? Visit our Hydro-Jett page to learn more.
https://www.poolesplumbing.com/wp-content/uploads/commercial-plumbing-e1387391082479.jpg
243
400
raleigh plumbers
https://www.poolesplumbing.com/assets/Pooles-logos_03_small.png
raleigh plumbers
2014-02-13 09:39:23
2019-01-24 15:02:58
New Hydro-Jett Clear & Clean Service Revolutionizes Drain Cleaning