Renting vs. Buying a Water Heater: Debunking a New Fad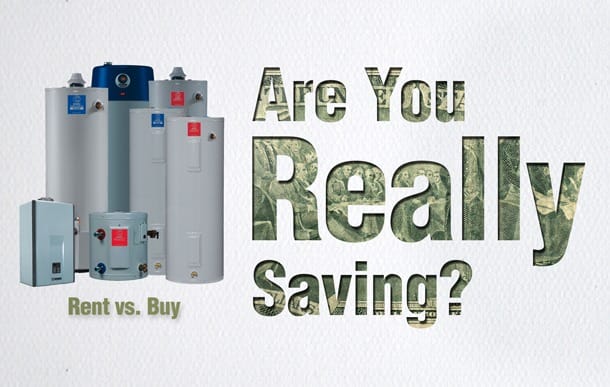 Many people currently rent or lease their water heaters instead of buying them. Homeowners find the idea of worry-free maintenance and repairs, free installation and low monthly fees appealing. However, if you plan to live in your home for many years, purchasing a water heater is clearly a wiser financial decision.
Water Heater Rental Cost Over Time
Most hot water heaters can be expected to last about 10 to 12 years. Over the life of the appliance, renters will pay far more than what the heater would have cost if purchased and installed. For example, if a homeowner paid $25 per month in rental fees, the total rental cost for 10 years would be $3000. The same water heater may have only cost around $800-$1000 fully installed.
Water heater rental fees often increase as time goes by. This can leave renters locked into an agreement to pay more and more every year for their aging unit. Some long-term rental agreements even require an expensive buy-out if you decide to switch suppliers or no longer need the water heater.
Understand Your Options
Renting may offer a convenient or even necessary option to those who will only be living in their current residence for a short time. It may also be beneficial for people living in areas of hard water where the heater's lifespan will be compromised and repairs are more likely, but for most homeowners, the savings over time would more than cover any repair or replacement cost.
New hot water heaters are generally covered under a warranty for a limited period of time. After warranties run out, owners are responsible for all repairs, but this does not necessarily mean that the cost of repair will be unaffordable, especially when compared to paying more than four times the worth of their appliance in rental fees. Buying your hot water heater also gives you a wider variety of choices. Eco-friendly options, favored brands and high-end models may not be available as rentals.
Spend Wisely, Save More
The decision to purchase a hot water heater rather than renting it is a clear example of spending money to save money. For financially stable homeowners who plan to use their water heater for several years, buying the appliance offers more benefits in the long run.
https://www.poolesplumbing.com/wp-content/uploads/2dollars-2.jpg
387
610
raleigh plumbers
https://www.poolesplumbing.com/assets/Pooles-logos_01_small.png
raleigh plumbers
2013-02-28 12:44:39
2022-10-13 12:33:07
Renting vs. Buying a Water Heater: Debunking a New Fad