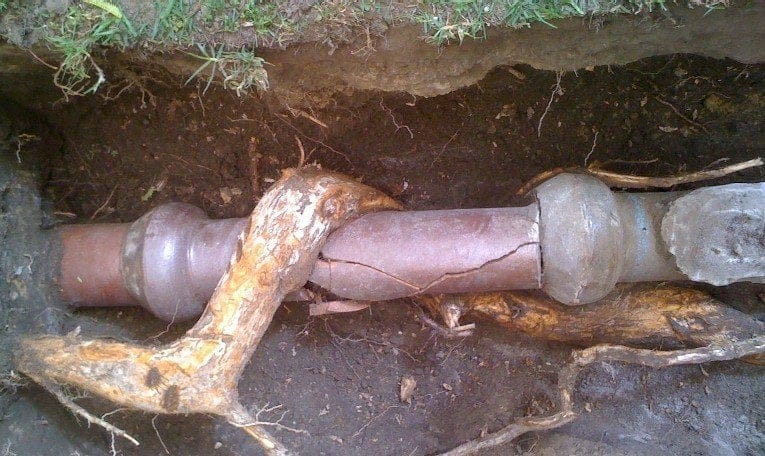 In our initial post dealing with clogged pipes, we documented different ways in which roots can end up in your sewer pipes. 
Continuing with this, our final post of the series, we will explain what you can do at home to maintain the sewer pipes or identify the issue. In this final posting, there are still two major questions to answer on the topic of Sewer Pipe Maintenance.
Are Some Sewer Pipes More or Less Susceptible to Root Damage Than Others?
The first Sewer Pipe Maintenance question is one that is not always obvious in encountering this issue. While some pipe materials are more resistant to roots penetrating the sewer pipe, eventually over time all are susceptible. Different types of ABS and PVC pipes, are less likely to see an intrusion by tree roots. On the contrary, vitrified clay pipes would be more susceptible to root issues. As time passes natural causes like ground settling, freezing and thawing, put all sewer pipes in danger of root intrusion.
What can  You Do to Remove Tree Roots From Sewer Pipes?
In most cases, the method which is used in removing roots from sewer pipes is an auger or a water powered method, much like the Raleigh NC professional plumbers at Poole's Plumbing's hydrojetting method. This innovative method uses high pressure jets of water to remove build-up and debris in clearing sewer lines. Additionally, by "hydro-jetting," you can removes all debris, roots included without tearing up your yard or pavement.
If you feel that you are having issues with Sewer Pipe Maintenance/roots in your sewer pipes, and need removal or are interested in having the most trusted name in Raleigh plumbers, Poole's Plumbing come out to rectify the issue before it becomes a more messy and costly one, you can check into their hydro-jetting service and contact them at poolesplumbing.com.
https://www.poolesplumbing.com/wp-content/uploads/sewer-repair-tree-roots.jpg
456
765
raleigh plumbers
https://www.poolesplumbing.com/assets/Pooles-logos_03_small.png
raleigh plumbers
2019-10-24 07:00:09
2019-10-24 09:49:52
Sewer Pipe Maintenance: How to Remove Tree Roots from Sewer Pipe