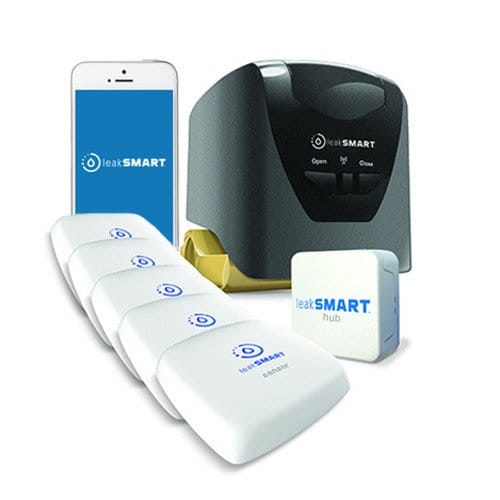 The Raleigh professional plumbers at Poole's Plumbing are now offering the "World's Most Intelligent Water Security System," Leak Smart.
In the following series of posts, we will focus on the incredible Leak Smart home water protection systems. The company's official website leaksmart.com describes it's system as follows. "Leak Smart provides a complete system of smart home products to protect your home from potentially catastrophic water damage even when the power and Wi-Fi are down."
Home Protection to the Next Level with a Storied Past
To understand the current and future of home water protection systems, one first must turn to the past. This age-old adage applies to the Leak Smart brand as well, with a legacy of over 85 years of providing bathroom and kitchen hardware.
In explaining the origins, of Leak Smart at their official website the following is explained. "Our story begins with Waxman Industries." The "Our Origins" section at leaksmart.com begins.It goes on to detail the Waxman Industries history leading to the introduction of this product, as well as bathroom and kitchen waxhardware products and accessories for nearly 85 years."
"You may not have heard of Waxman before," the post continues. "but you've certainly used one of their products."
The Mission: Protecting Home and Family
Leak Smart has become the "safety net" and "protector" from water damage for businesses and families alike. According to its official website, the company's mission statement is as follows.
"At Leak Smart, we are on a mission to protect every home and family in the world from catastrophic water damage caused by devastating leaks and floods."
The most trusted name in Raleigh NC plumbing, Poole's Plumbing are an authorized dealer and installer of LeakSmart. This is the first article in a series that will detail "The World's Most Intelligent Leak and Flood Protection System."
For more on all the services offered by Poole's Plumbing, visit poolesplumbing.com.
https://www.poolesplumbing.com/wp-content/uploads/product-full-system_1024x1024_d704a432-3aa6-4780-a50a-1c3fe568a31a_1024x1024.jpg
500
500
raleigh plumbers
https://www.poolesplumbing.com/assets/Pooles-logos_03_small.png
raleigh plumbers
2019-11-07 07:00:28
2019-11-06 15:49:00
Simple. Smart. Secure. Introducing Leak Smart, the World's Most Intelligent Water Security System