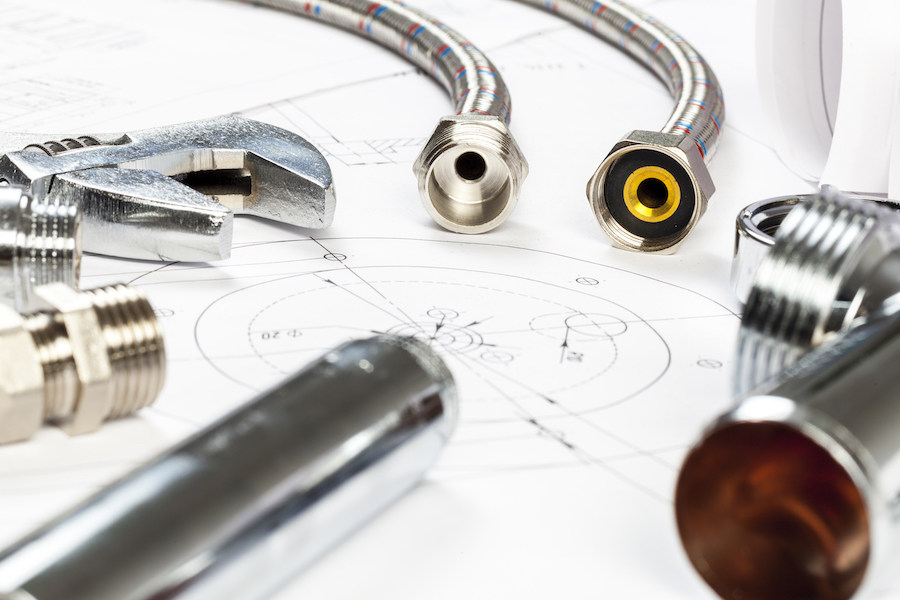 Knowing the Right Types of Plumbing Pipes
It is a joyous and exciting time when building or buying a new home. Likewise, it is a very busy and sometimes stressful process as well. There are so many specifics that you want to be sure of and it weighs heavily on the new homebuyer to not forget any important details. One very important detail that you want to be sure of is finding the right Types of Plumbing Pipes and knowing which are best suited to get the job done right.
Is this really that important? Can't you just totally rely on the builders and plumbing staff brought in for the right Types of Plumbing Types? Well, more than likely they would get you set up correctly. However, in case you don't want to even take the slightest chance, below we will familiarize you with four different Types of Plumbing Pipes.
Different Metallic Types of Plumbing Pipes
As you are probably aware, the different Types of Plumbing Pipes are made from different materials. Each has reasoning and its benefits for being made as such. The first two types we will detail for you are made of metallic-like material, with copper first and then galvanized steel.
Copper Piping
The first type of piping we will look at is copper. This is many times used to either construct or renovate gas line plumbing systems. Cooper pipe is known to be extremely durable and reliable in residential or commercial properties. They handle very high pressures and also extreme cold or hot temperatures. Copper piping is more expensive than our other options, but if installed right lasts 50-70 years on average. Below are the most important benefits or characteristics of copper pipe to take into consideration.
Very reliable against corrosion
Fire resistant
One of the most common materials available
Able to be used with hot and cold water
Does not release any dangerous materials into water
Must be soldered together by a professional
Galvanized Steel Piping
Next up among our Types of Plumbing Pipes is Galvanized Steel Pipe. These are obviously made of steel. But it is steel that has been dipped in a molten zinc protective coating. This helps prevent or at least delay rust or corrosion. These Types of Plumbing Pipes first became popular as an alternative to lead pipes in the months and years after World War I. The most popular that Galvanized piping saw was from those early days up and through the 1980's. The one setback with these Types of Plumbing Pipes is that after decades of use they can develop corrosion and rust buildup which can create some serious plumbing issues. The benefits and characteristics of galvanized steel piping to consider are below.
They are less expensive than copper
More durability than copper pipe
They have a wider diameter to allow more water flow than other Types of Plumbing Pipes
Is mainly used for "gray" water (i.e., excess bath, sink, and appliance water)
Once they age and rust appears, there can be visible pieces of rust in the contents of your water
Plastic-Like and Non-Metallic Types of Plumbing Pipes
Just as with the two metallic Types of Plumbing Pipes, each of the two we will cover next has its benefits. These non-metallic pipes are very durable, as you might expect. Are they the right fit for your home or place of business? Well, take a look below and become more familiar with each and take any guessing out of the equation when answering that question.
Polyethylene Piping (PEX)
Our next analysis of the Types of Plumbing Pipes is made of plastic. Polyethylene or PEX pipe is used for water supply piping systems in homes or commercial locations. A major plus is the flexibility of this type of piping, which makes for easier installation. While initial installation costs are usually higher than other piping, there is practically no maintenance needed with PEX pipe. It ranges in sizes from 1/4 to 4 inches in diameter and is heat resistant and incredibly durable. The most important characteristics of PEX piping are shown below.
Easily installed
Generally leak-free
Helps conserve energy due to a reduced heat transfer
Less expensive than copper piping
Does not need to have a threaded connection or soldering
Corrosion-resistant
Most resistant piping to scale buildup
A good fit for smaller commercial or residential property
Polyvinyl Piping (PVC)
Our final analysis of Types of Plumbing Pipes is one used for an array of piping applications. Polyvinyl or as it's better known, PVC piping can be used for anything from sprinkler systems to transport piping for drinking water. This is a very popular alternative to lead-based piping that is often used throughout the United States and England. It is known as a very durable pipe and is very reasonably priced also, which adds to this materials allure. The fact that it has the capability to operate for over 100 years is also a good selling point. Some of the characteristics of PVC piping that you should know are shown on the following list.
Different levels of thickness of the pipe are available depending on what type of job it's being used for
Is often used for drinking water and sewage-related plumbing applications
The PVC piping used in the aforementioned drinking water pipes are specially designed to meet any and all health regulations and requirements
Polyvinyl is a low-carbon, recyclable plastic. Thus, PVC piping is an environmentally friendly selection
Making Sure You are Making the Right Choice
So, this concludes our look at the four main Types of Plumbing Pipes. Now that you are a bit more familiar with your options, your decision for which pipes to use for which jobs should make more sense than coming in blindly. A conversation with one of the professionals from your trusted Raleigh plumbers at Poole's Plumbing before they start the installation process combined with your new-found knowledge should have you on the right path to plumbing pipe perfection.
To contact us about your pipes or any other plumbing issues you may have, visit poolesplumbing.com.
https://www.poolesplumbing.com/wp-content/uploads/types-of-plumbing-types-pooles-plumbing.jpg
600
900
raleigh plumbers
https://www.poolesplumbing.com/assets/Pooles-logos_01_small.png
raleigh plumbers
2021-03-11 07:00:11
2022-11-27 15:13:06
Knowing the Right Types of Plumbing Pipes