Faucets with Smart Technology are Washing us Into the Future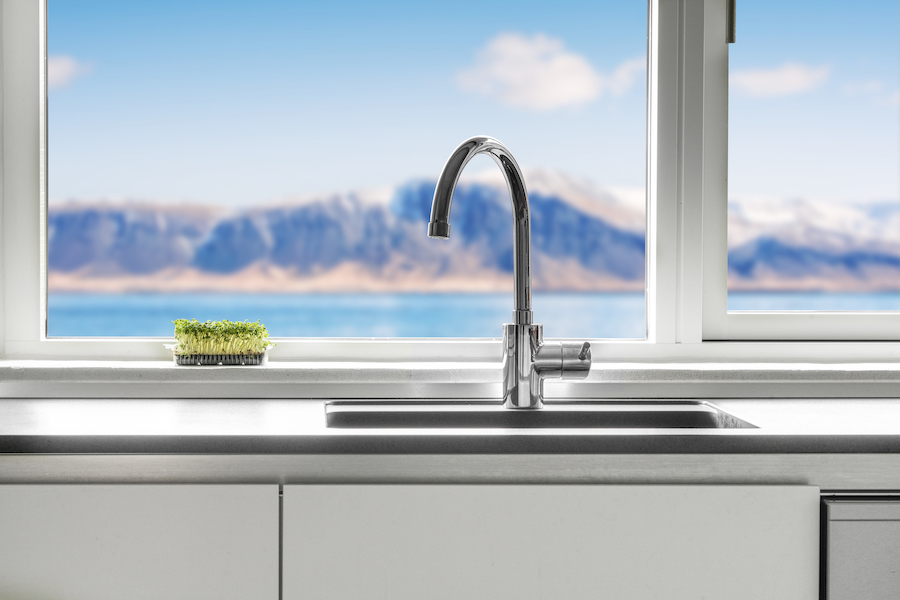 Smart. Something we all aspire to be. This  one word can cover a lot of area, but when it comes to the particular subject for Faucets with Smart Technology, smart takes on dual meanings.
Technology. One word that any person reading this can read and think of countless ways our lives are different because of it. The ways that our cars operate. How we protect our homes. What we are watching and how we are watching television. Obviously, the evolution of the wall phone to the smartphone.
The inside of our homes is no different in that the more advances we see in technology, the more convenient or "smart" our homes get. The bathroom is no exception, as one can attest by looking at the innovations to toilets and showers. Likewise, and where will be discussing in this post, Faucets with Smart Technology are the "next wave" to be looking for.
Bathrooms have been "growing up" in regard to technology for quite some time now. Everything from lighting to the temperature setting on all appliances and areas. But, in this piece on Faucets with Smart Technology, we are not going to focus so much on the "pampering" aspects of the innovations. Instead, we will look at exactly how you can use Faucets with Smart Technology to be …well, smarter.
Being "Smart" and Connecting to Your Faucets with Smart Technology
There have been many Faucets with Smart Technology whose features evolved greatly. Most of us have seen how water temperature can be preset through the usage of apps. Likewise, the "touch-free," motion sensor faucets have continued to see improvements over the years. However, this latest innovation to Faucets with Smart Technology we will discuss can not only aid convenience, but help you conserve and consume with no worries, and very little effort.
The product we speak of was first developed by a North-Eastern United States startup company and is a combination a water filter and meter. Thus, it allows you to connect any of your own smart devices to these Faucets with Smart Technology. Once you connect, the technology not only filters and informs you of the water quality levels but also monitors exactly how much is used.
So, whereas most filters would run on a time-based module, this type is based on the amount of water you consume. So, it can actually produce real-time data and information for you. This innovation basically tells you how good your water filter is working, the level of the water quality you are consuming is, and how much water you actually consume.
Monitoring, Filtering and Helping You Save Money
There are multiple ways for Faucets with Smart Technology to save you from wasting water. Likewise, they can save you  from wasting money. How exactly you ask? Well, let us explain.
Having  Faucets with Smart Technology helps you be able to plan ahead. As a result, you can accordingly adjust your usage. This is not the only way your Faucets with Smart Technology help you save though.
This new module can help you save on your water bill in a variety of ways. For example, it could be set to remind you when brushing your teeth to turn off the faucet. Likewise, it can recognize a leak, which we all know can be costly. So, you are both avoiding wasting water. Likewise, you will save on your monthly bills as a result of this.
Faucets with Smart Technology, With No Need for a New Faucet?!?!
Let's say this company is able to secure the funding and release this product. As a result, consumers will have more accurate water consumption information than ever previously thought possible. In addition to this item in regard to Faucets with Smart Technology, you don't even need a new faucet, as it will attach directly to your existing plumbing feature.
Your friends at Poole's Plumbing are not only the most trusted name in Raleigh plumbers for the past two decades. They also are always staying on top of the latest innovations in all plumbing technology. As the innovations in Faucets with Smart Technology progress, we at Poole's will keep you posted.  To contact us here at Poole's for any and all of your plumbing needs, visit poolesplumbing.com.
https://www.poolesplumbing.com/wp-content/uploads/faucets-with-smart-technology-pooles-plumbing.jpg
600
900
raleigh plumbers
https://www.poolesplumbing.com/assets/Pooles-logos_03_small.png
raleigh plumbers
2021-01-14 07:00:02
2020-10-23 11:02:02
Faucets with Smart Technology are Washing us Into the Future