Visit Poole's Plumbing at the 2015 Fall Downtown Raleigh Home Show
Gain a Fresh Perspective— Friday, September 11-Sunday, September 13, 2015 at Booth 519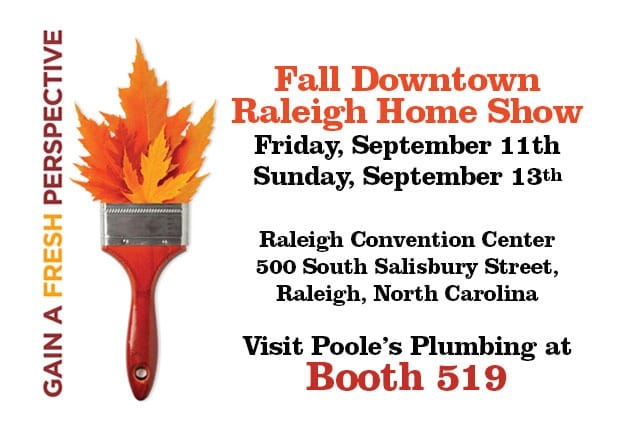 Stop by and visit the Raleigh Plumbing professionals at Poole's Plumbing and get some helpful tips and ideas, see all the newest products, and get some fantastic deals at the "Fall Downtown Raleigh Home Show." Find Poole's at Booth 519, right in the center of the main showroom at Raleigh's Biggest Home Show Event of the season.
Fall Downtown Raleigh Home Show
Friday, September 11th-Sunday, September 13th
Raleigh Convention Center
500 South Salisbury Street, Raleigh
Visit Poole's Plumbing at Booth 519
Join the Raleigh plumbing experts from Poole's Plumbing alongside top professionals from all fields representing local, regional, and national companies in all areas of remodeling, home improvement, outdoor, and design. For three days, come experience, compare, and purchase the latest and most innovative products and services offered for the home and garden. With professionals and experts in a variety of fields representing the top local, regional, and national companies, you won't want to miss the Triangle area's Biggest Home and Garden Event of the season.
Celebrity appearances will be made throughout the weekend at the Home Show, as the host of the popular PBS series, "This Old House," Kevin O'Connor will be at the show on Friday and Saturday, and the 2015 Home and Garden Trendsetter of the year, "the Diva of DIY," Leanne Lee, of the DIY Network, appears on all three days.
In addition to over 200 exhibitors to be on hand at this year's Fall Home Show, there are several demonstrations and special attractions you won't want to miss, including:
THE ULTIMATE TREE HOUSE
Certainly not the treehouse you remember from your childhood, you don't even have to be outside to take a walk through this impressive feature designed by RB Landscaping.
DRAB TO FAB
The Go Girl Shoppe will be showing you how to turn "flea market finds" or old items found in your home from "Drab to Fab" as they are showcased both before and after the transformation.
OUTDOOR OASIS
Giving you a glimpse of the creative design that has made them one of Raleigh's premier landscapers for over a decade, Luxury Living Scapes Inc. the "Outdoor Oasis" will be built inside the convention center in aisle 100 of the show.
GARDEN MARKET
Flowers, plants, and another unique home décor will be available in the Garden Market. You can't miss the spectacular presentation of The Flower Pot, which will be located in the lobby of the convention center.
HERO DAY
A special thanks to "the troops," as on Friday, September 11, all active and retired military personnel get into the show for FREE.
Website: www.raleighfallshow.com
https://www.poolesplumbing.com/wp-content/uploads/pp-2015-fall-home-show.jpg
436
600
raleigh plumbers
https://www.poolesplumbing.com/assets/Pooles-logos_01_small.png
raleigh plumbers
2015-09-09 12:15:15
2022-10-13 12:35:36
Visit Poole's Plumbing at the 2015 Fall Downtown Raleigh Home Show