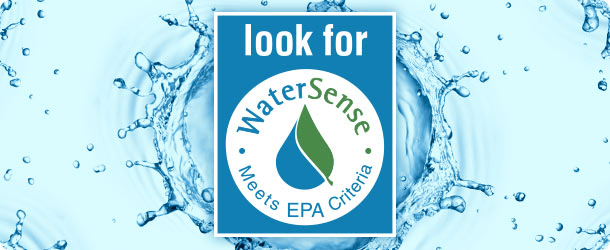 Initially part of an Environmental Protection Agency (EPA) partnership program, the WaterSense name and label has become synonymous with water-efficient products and conservation.
This will be the first in a series of articles on "green plumbing." In our series of posts, we will look at the benefits of green plumbing and answer many questions and 'myths' that most wonder when discussing the topic.
Above all, in this series, we will look at how you can conserve and save: both to help the environment and your wallet. Our first post will focus on "WaterSense."
Looking Beyond the Label: The "Why and What" is WaterSense?
We have all seen the half green and half blue waterdrop carrying the WaterSense name. While most vaguely know the symbol to be associated with conservation and environmental consciousness, few look further than that.
To get the official WaterSense description from epa.gov, the website explains the following.
"The WaterSense label makes it simple to find water-efficient products, new homes, and programs that meet EPA's criteria for efficiency and performance." The website continues, "The WaterSense label makes it simple to find water-efficient products, new homes, and programs that meet EPA's criteria for efficiency and performance."
"WaterSense partners with manufacturers, retailers and distributors, homebuilders, irrigation professionals, and utilities to bring WaterSense to your community. Our partnerships encourage innovation in manufacturing and support sustainable jobs for American workers."
Partnering Up to Fulfill a Mission and a Vision
The EPA had a vision upon initial discussions of WaterSense. It also came about with a mission to accomplish. Likewise, these are both also discussed in detail at epa.gov.
The WaterSense mission statement is one that has remained true since the initiative first launched in June of 2006. It is as follows. "We are transforming the marketplace for products and services that use water, and promoting a nationwide ethic of water efficiency to conserve water resources for future generations and reduce water and wastewater infrastructure costs."
Consequently, the initial vision of the Summer of 2006 remains the same and plays off of the mission statement. The 'WaterSense' vision is that "all Americans will understand the importance of water efficiency and take positive actions to reduce their water use. In their homes, outdoors, and at work."
How can WaterSense Equal Water Savings???
Again referring to the official EPA website, the following "Water Stats" explain how much 'sense' that a switch to these products actually makes.
WaterSense labels products that are 20 percent more water-efficient and perform as well as or better than standard models.
The average family can save 13,000 gallons of water and $130 in water costs per year by replacing all old, inefficient toilets in their home with WaterSense labeled models.
Replacing old, inefficient bathroom faucets and aerators with WaterSense labeled models. This can save the average family $250 in water and electricity costs over the faucets' lifetime.
Replacing showerheads with WaterSense labeled models can reduce the average family's water and electricity costs by $70. Likewise, this can save the average family more than 2,700 gallons of water per year. This is equal to the amount of water needed to wash 88 loads of laundry.
Giving a home's main bathroom a high-efficiency makeover by installing a WaterSense labeled toilet, showerhead, and faucet aerator. These savings can pay for itself in as little as 1 year.
Replacing a standard clock timer with a WaterSense labeled irrigation controller. This can reduce an average home's irrigation water use by 15 percent. It also can save an average home nearly 7,600 gallons of water annually.
As mentioned above, this is the first post in a three part series to familiarize you with green plumbing. For more information on WaterSense, and products bearing its name on their labels, visit their website at epa.gov/watersense.
https://www.poolesplumbing.com/wp-content/uploads/watersense_EPA_1.jpg.png
250
610
raleigh plumbers
https://www.poolesplumbing.com/assets/Pooles-logos_03_small.png
raleigh plumbers
2020-01-09 07:00:44
2020-01-09 08:33:33
Making Sense of WaterSense