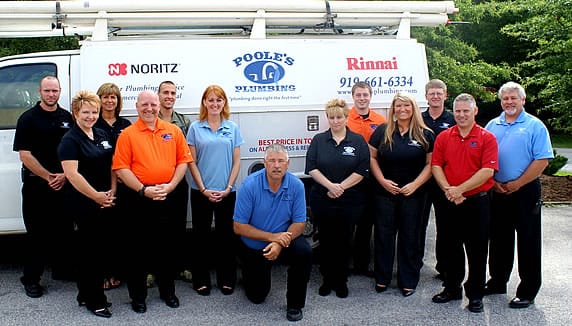 Poole's Plumbing : The Most Trusted Raleigh NC Plumbers for 20 Years
From a small, humble start to becoming the most trusted name in Raleigh NC plumbers, Poole's Plumbing celebrates its 20th year of "plumbing done right!"
This post celebrates the 20 years of Poole's Plumbing service in the Raleigh and Triangle area. As you will see, in our two decades of service and becoming the most trusted name in Raleigh NC plumbers our overall goal and focus is to please you…our loyal customers. Over the course of this summer, our blog will continue with this "celebration" and the great 20-year bond built between our customer and the Raleigh NC plumbers at Poole's. While this first article in this series looks back over our history, the stories to follow will come from the customer's perspective and tell the story of their recollections of the Poole's Plumbing experience they had.
Two Men, A Truck, and a Dream
They are the 24/7 emergency Raleigh NC plumbers that you can always count on. However, Poole's Plumbing began in 1999, the brainchild of company founder, Robert K. Poole,  with only two men, a truck, and a dream. In the company's 20-year existence, Poole's offers several programs and initiatives that "change the game" for Raleigh NC plumbers.
Over the course of twenty years, Poole's has an unmatched relationship with its employees and customers alike. Way back in 1999, Robert aspired that one day his company will be one of the top plumbing contractors in the area. Through unparalleled work ethic and the earning trust of their clients, Robert's initial dream has become a reality.
To date, in April 2019, 20 years after the company's inception, Poole's has grown to have nearly 100 employees and plumbs an estimated 1,000 new homes annually.
The Most Trusted Name 24/7
One title earned by Poole's Plumbing over the past 20 years is the Most Trusted Name in Raleigh emergency plumbers. As we all know, some plumbing issues just can not wait. Thus Poole's Plumbing has prided themselves on being the number one name among all Raleigh NC plumbers to call on in an emergency.
Poole's classifies an emergency plumbing situation as one of the following.
A leak on a fixture that could possibly damage cabinets, flooring or ceiling
Water leaking in such a manner that it will cause damage to the home
A sewage backup that affects the entire house
No hot water at residence
Guarantee of 'Best Price in Town' for Raleigh NC plumbers
Another program synonymous with Poole's Plumbing is their "Best Price in Town" guarantee. Basically, this is just as it sounds, as Poole's is the Raleigh area water heater experts. Hence, Poole's guarantees they will beat any Raleigh NC plumbers prices on all new and replacement water heaters.
The Best Customer Service among Raleigh NC plumbers
There are numerous reasons how Poole's upholds the great reputation they have in their 20 years in business. Honesty, timeliness, top quality work, affordability, and a family-like atmosphere between them and the customer. These all play into Poole's rise to the number one Raleigh NC plumbers. However, to understand the "Poole's way," and their dedication to great customer relationships see their Customer Service Code of Ethics.
Poole's Plumbing Customer Service Code of Ethics
The customer is the most important aspect of our company.
Listen to the customer and identify as well as anticipate their needs.
Clearly, communicate all options available to the customer.
Accurately document all aspects of the work
Strive to go above and beyond the customers' expectations.
Handle complaints and follow up to make sure they will get resolved.
Never let a customer go to voicemail (during normal business hours).
When required, transfer customers to the proper person and make sure that person is aware they are being transferred.
Do the work we say we will do, for the price we say we will do it for, in the time frame we said we will do it in.
Two Decades and "Just Getting Started"
As the Triangle area's top plumbers, Poole's Plumbing will adhere to its motto of "plumbing done right the first time."Poole's is a fully licensed and insured plumbing company approaching all projects with honesty and integrity.  Consequently, we will serve you and deliver as the most trusted among all Raleigh NC plumbers for 20 more years and beyond.
To reach the number one name in Raleigh NC plumbers, Poole's Plumbing, visit the "Contact Us" page here.
https://www.poolesplumbing.com/wp-content/uploads/raleigh-plumbing-staff.jpg
326
572
raleigh plumbers
https://www.poolesplumbing.com/assets/Pooles-logos_01_small.png
raleigh plumbers
2019-06-20 07:00:04
2022-10-13 12:33:09
Poole's Plumbing : The Most Trusted Raleigh NC Plumbers for 20 Years