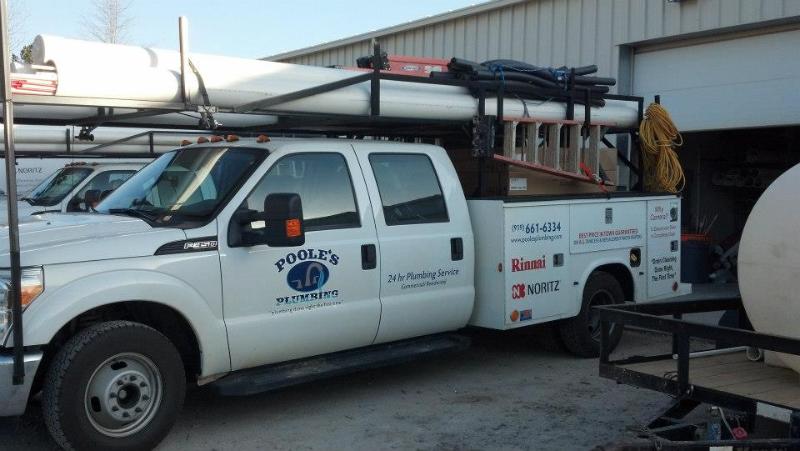 Starting with this post, we honor 20 years of "plumbing done right the first time" by Poole's Plumbing by using the words of "you," the customer in each article. Since Poole's has become the Raleigh Water Heater Experts, we will start our "anniversary celebration" by looking at some of the memories our customers have pertaining to their experiences with the Poole's family.
The Raleigh Water Heater Experts Price Beats "Every Single One of Them"
As stated in the "Services" section at poolesplumbing.com, when it comes to water heaters, "Poole's does it ALL!" In addition, Poole's has "highly-qualified technicians and offer the best brand name water heater systems available. Paired with our "Best Price Water Heaters in Town Guarantee", we offer a service like no other."
Many plumbers may claim to be "the experts," but like with the "Best Price" guarantee above, you don't have to take Poole's word for it. Whether its the advice we offer, our quality work, or our guarantee, we prefer to let our customers do the talking.
Don't Take Our Word For It, But "Definitely Trust Poole's!"
"I first called Poole's about replacing my aging water heater with a gas tankless version (the particular dealer connected the two of us)." This customer added, "They came out, assessed my current setup and gave me a pretty good offer. At the time, my existing water heater still worked, so I was putting the project off for the time being (mostly to save up for this project)."
Continuing to recall the Poole's experience, this customer continued. "Fast forward several months, and the existing water heater is literally on its last legs. I wanted to do my due diligence so I called some other companies to get competitive pricing. A LOT of other companies."
Further recalling her interaction with the Raleigh Water Heater Experts, this customer concluded. "Poole's beat every single one of them on price. Some companies wanted 2x or 3x the amount that Poole's quoted me, for an inferior product!"
She added, "It was worth the experience to know that not only was I getting a good deal, I was going to be working with knowledgeable professionals. Definitely trust Poole's!"
It's Your Choice…20 Years Background as Raleigh Water Heater Experts or Background Noise…
This next customer recollection again details another account of why Poole's is the Raleigh Water Heater Experts. This memoir of the Poole's experience details the unparalleled customer service synonymous with the Poole's name.
"Our hot water heater blew late one night in mid-January. I had just seen an ad on TV that week for 2 plumbing companies." The customer's tale continues, "I called first one and the background sounded like a lot of people (telemarketing hub?) which made me very uncomfortable."
Understandably, this customer came out of that phone call feeling uncertain in what they may find in a plumber. The customer continues her recollection, "My thought was if there's a problem who's going to fix it? So, I call the next number which was Poole's Plumbing and what a difference! They're a local company which was a huge plus."
A Simple Call Brings You From "Uncertainty to Comfort and Appreciation"
Speaking with the Raleigh Water Heater Experts, as opposed to a competitor makes a difference. The change in attitude from uncertainty to comfort is obvious as the client continues. "Everyone I had contact with, from phone conversations to in-person installation personnel were absolutely fantastic." Everyone was knowledgeable, professional, and very friendly.
She concludes with appreciation and a recommendation. "Thank you to everyone at Poole's. I highly recommend to anyone for high-quality products and service, as well as a great friendly and knowledgeable staff, call Poole's Plumbing."
For the past two decades, Poole's Plumbing has been the name to trust in the Triangle area. We will continue to celebrate 20 years as Raleigh Water Heater Experts. Likewise, we will celebrate 20 years of service to you, our customers. This we will do in this ongoing series of posts using the words of our customers.
For more on water heater replacement and repair or any of your plumbing needs, visit poolesplumbing.com.
https://www.poolesplumbing.com/wp-content/uploads/6370.jpeg
451
800
raleigh plumbers
https://www.poolesplumbing.com/assets/Pooles-logos_03_small.png
raleigh plumbers
2019-07-11 11:59:48
2019-07-11 11:59:48
"Recalling the Calls" to Raleigh Water Heater Experts: Customers Remember 20 Years of Poole's Plumbing