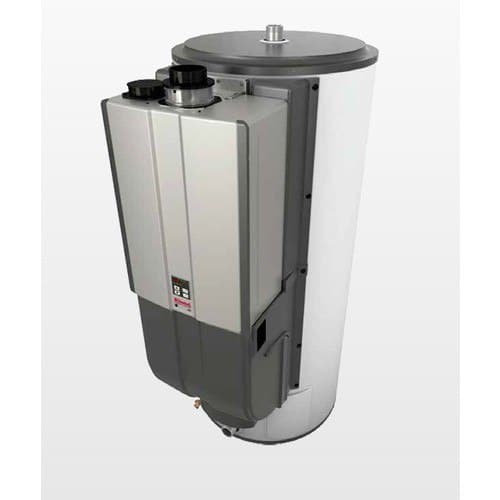 Already the number one name and manufacturer of water heaters in North America, Rinnai has announced its Demand Duo series. These Rinnai Water Heaters give customers the best benefits of both tank and tankless models.
Get the Best of Both Worlds! (In Water Heaters)
At rinnai.us, the company that has continuously set the standard for both tankless and conventional water heaters explains the system. "Rinnai's Demand Duo Hybrid Water Heating System is the smart choice when it's time to replace a standard tank."
 It goes on to say the following. "Featuring a part-tank, part-tankless design, the Demand Duo offers the best of both technologies in a quick and easy upgrade that delivers an endless supply of hot water."
How Do they Combine Tank and Tankless Models in These Rinnai Water Heaters?
On the same page at rinnai.us, they also explain exactly how and what benefits come from combining the two types of water heaters. Likewise, they explain the benefits of combining them to make these Rinnai Water Heaters.
"The Rinnai Demand Duo pairs a durable, energy-efficient 119-gallon storage tank with a Rinnai C199 tankless unit." They explain further, "This creates a direct replacement solution with connections similar to most high-efficiency tanks that provides continuous hot water. The article concludes, "This means the Demand Duo is simple to install and keeps pace with an establishment's hot water needs."
Greater Capacity? Longer Lifespan? How About Both!
Going further into detail, the official Rinnai website gives more detail on the incredible innovation in these water heaters. It explains how they have more capacity and last longer.
"Because the Demand Duo's heat source is placed outside the tank, it actually offers more water heating capacity than traditional units." It continues, "Furthermore, the removal of the heating element from inside the tank eliminates thermal stress on the tank itself, lengthening the life of the unit and its ability to consistently output hot water."
The piece on these Rinnai Water Heaters concludes with the following. "Rinnai's warranty on the Demand Duo is twice that of traditional commercial tanks and it is backed with a No-Risk Satisfaction Guarantee."
Benefits of the Demand Duo Rinnai Water Heaters
Longer life vs. traditional tank

2 times the warranty

8-year heat exchanger and tank/ 6-year tank/ 5-year parts/ 2-year labor

Saves money with less energy cost vs. standard-efficiency water heater

Performs better by combining best of tank and tankless technologies

Ease of repair – all parts are replaceable
Other Key Features of Demand Duo Water Heaters
Built standard with 199,000 BTU C199 commercial tankless water heater

Ultra low NOx compliant

Commercial ENERGY STAR certified

Multiple venting options (PVC/CPVC, Room Air, Concentric, Common Vent)

System weight up to 250 lbs. lighter than competitive units
For more on the latest innovations in Rinnai Water Heaters and so much more, visit rinnai.us. Also, to see all the products and vendors associated with the Raleigh water heater experts at Poole's, visit poolesplumbing.com.
https://www.poolesplumbing.com/wp-content/uploads/Rinnai-Water-Heaters-Pooles-Plumbing.jpg
500
500
raleigh plumbers
https://www.poolesplumbing.com/assets/Pooles-logos_03_small.png
raleigh plumbers
2020-02-13 07:00:18
2019-12-05 14:18:18
Demand Duo is Latest of Innovations in Rinnai Commercial Water Heaters