Tankless Water Heater: Is it Worth the Extra Cost?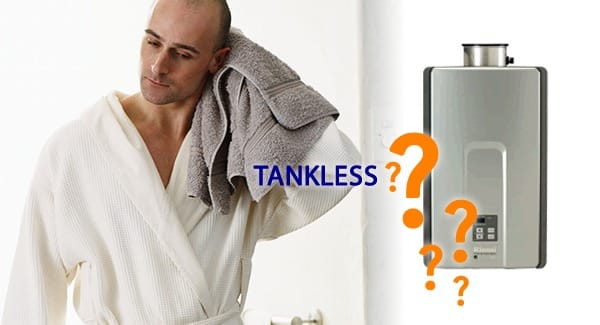 When making the important decision of choosing which type of water heater to install, whether you are building a new home or simply replacing an old unit, the cost and potential savings are always a big factor in the final choice. While the cost to install a tankless water heater is higher than that of the standard gas storage, or "tank type" models, there are significant savings throughout the life of the unit that may make the tankless water heater more cost effective throughout its life span.
In addition to providing the benefit of a flow of endless hot water, tankless water heaters are more energy efficient and thus, can help to lower your energy costs. Unlike the tank type storage water heaters, by going "tankless," the water is only heated when needed, rather than consuming energy 24 hours a day. According to energystar.gov, "tankless water heaters save the typical family more than $100 per year on gas bills compared to a standard storage model." These savings would increase with families that are of larger size, as ENERGY STAR also estimates that the tankless units can save a family of three about $130 annually, with those savings doubling for a six person household with an estimated $260 in savings.
In addition to saving on energy costs at about 30 percent annually, another thing that would make tankless water heaters more cost effective in the long run is that they have a much longer life span than that of the storage tank water heaters. An average tankless water heater unit is estimated to last around 20 years as opposed to about 8-10 year expected life span with a tank type water heater. In the long run you will certainly save on the frequency of having to replace your water heater.
So if you're on the fence regarding which type of water heater to install and the research is just too overwhelming, contact a Certified Poole's Plumbing Water Heater Specialist today. Not only can we help you make the right choice, we can provide a turn-key installation for either a Tankless Water Heater or a Tank Type Water Heater. And in addition to getting a professionally installed Water Heater, we also offer a best price in town guarantee.
Top 5 Reasons Why Homeowners Switch To A Tankless Water Heater:
Save Money! – Energy Savings
Endless Hot Water! – Heats the Water as Needed
Saves Space! – Fraction of the Size of a Tank Type Water Heater
Longevity! – Lasts up to Twice as Long as a Tank Type Water Heater
Green! – ENERGY STAR Rated by the U.S. Environmental Protection Agency and the Department of Energy.
https://www.poolesplumbing.com/wp-content/uploads/Tankless-water-heater-is-the-extra-cost-worth-it.jpg
325
600
raleigh plumbers
https://www.poolesplumbing.com/assets/Pooles-logos_01_small.png
raleigh plumbers
2012-12-11 13:51:44
2022-10-13 12:33:07
Tankless Water Heater: Is it Worth the Extra Cost?