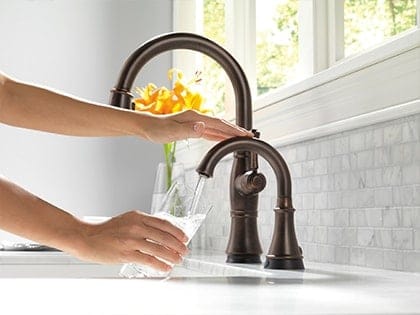 As we note on our "Plumbing Resources" page, as Raleigh's most trusted plumbers, we work with the top vendors and products available. One such brand that is once again "re-inventing" the way we all look at plumbing products is Delta. The experts at Poole's Plumbing can help you to install and get familiar with the latest Delta Plumbing Products. These include their innovative faucet line that allows you to use a simple touch to control water flow.
Get Your Water with Just a Tap, It's Just the Start of Innovative Delta Plumbing Products
A press release from deltafaucet.com announces and details the innovative Touch 2 O technology that is "changing the faucet game." In explaining how and why the innovations have come about in Delta Plumbing Products, the release reads as follows.
"To satisfy the needs of homeowners looking to enhance their kitchen's functionality, Delta Faucet presents its complete line of beverage faucets, which now feature optional Touch 2 O Technology." It continues, "Allowing users to turn the faucet on and off with a simple tap. "
The release then explains that the new technology is available in a variety of styles and finishes of Delta Plumbing Products. 
Functionality with Style: Delta Plumbing Products Give You all Three
Delta brand product manager, Peggy Gallagher discusses several advantages to the innovations with these Delta Plumbing Products. Gallagher touches on getting the desired functionality without sacrificing your sense of style.
"With Delta beverage faucets, homeowners no longer need to sacrifice style in their kitchen by using an unflattering water tap." Gallagher adds, "Our beverage faucets are offered in a variety of styles and finish colors." She goes on," They also include some of our most advanced kitchen technologies, including our intuitive touch-activated Touch 2 O Technology." Peggy concludes, "This makes it possible to have a kitchen that is both functional and chic."
Compatibility and Filtration? Check and Check!
It is also reads in the press release, that each of these Delta Plumbing Products features yet another innovation. This is the InnoFlex PEX supply line. According to the release these are "compatible with virtually any water filtration system." This includes Reverse Osmosis water filtration systems. Likewise, they fit standard plumbing supply lines.
The Delta Kitchen Faucets featuring Touch 2 O  are Available in the Following Finishes.
Chrome

Arctic Stainless

Brilliance Stainless

Venetian Bronze
For more information on the latest in Delta Plumbing Products, visit deltafaucet.com. To see all of the vendors and great products that are associated with Poole's plumbing, visit the "Resources and Products" page at poolesplumbing.com.
https://www.poolesplumbing.com/wp-content/uploads/Delta-Plumbing-Products-Pooles-Plumbing.jpg
315
420
raleigh plumbers
https://www.poolesplumbing.com/assets/Pooles-logos_01_small.png
raleigh plumbers
2020-02-06 07:00:49
2022-11-27 15:13:08
Delta Plumbing Products Bring Conveinience and Style with a Tap