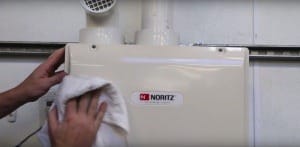 The Raleigh professional plumbers at Poole's Plumbing are the number one water heater specialists across the Triangle area, however, even if you have been enjoying the water savings and convenience of a tankless unit you had installed by us, to ensure you keep your hot water flowing, here are several things that you can do at home to perform important Tankless Water Heater External Maintenance.
As noted in a series of articles which include video instructions at the official Noritz website that can be found here, the first step in your Tankless Water Heater External Maintenance is to do an inspection, visually around the unit. Take a good look to make sure there are absolutely no combustible materials present can help to avoid a future hazard. One thing to look for is any type of discoloring on the outside of your tank and its remote control. Wipe this outside surface first with a wet cloth and then be sure to dry it, as despite being water resistant, your water heater is not waterproof. In cleaning the remote control never use oil or fatty detergents or benzene, as either of these can and will be harmful to it.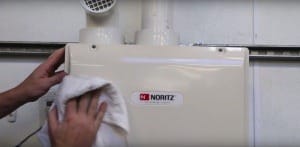 Much like the first simple step above of Water Heater External Maintenance, next, simply listen to your water heater to be certain that you don't hear any abnormal sounds as the unit is operating. If you do hear something that you find abnormal, it is best to troubleshoot this type issue with one of the water heater specialists at Poole's.
Checking for leaks in the pressure release valve may seem obvious, but this too is a part of Tankless Water Heater External Maintenance that can help to avoid a larger issue down the road. You will want to open the valve to make sure that it turns off correctly and that everything is working as it should. If you do find a leak or drip in the pressure release valve, it will need to be replaced. A thorough check of all connections to the water heater to make sure everything correctly fits can also help to detect leaks and save on a much larger problem occurring down the road.
If your water heater is a DV condensing model you will want to regularly check for dust or soot that has collected in the exhaust. To do this, you will want to use the end of a screwdriver to remove the screen from the intake valve and check for any type of debris. Before putting it back in, thoroughly clean both sides of the screen with a brush and some water, then allow it to fully dry before placing it back in. This will help to ensure that there can be proper airflow into the system.
Tankless Water Heater External Maintenance is crucial in keeping your flow of hot water steady and plentiful and by following these simple at home tips you will be more likely to catch a potential problem or issue before it becomes disastrous and costly. Our next post will be a second part in doing Tankless Water Heater Maintenance with a focus in that entry on how to maintain the internal area of your unit.
https://www.poolesplumbing.com/wp-content/uploads/Tankless-Water-Heater-External-Maintenance-Pooles.jpg
147
300
raleigh plumbers
https://www.poolesplumbing.com/assets/Pooles-logos_03_small.png
raleigh plumbers
2016-05-19 13:10:48
2020-01-02 15:12:44
Going with the Flow: Tips for Tankless Water Heater External Maintenance